TOUR DETAILS AND ITINERARY
Set out on a photo safari amid some of East Africa's most spectacular landscapes and hone your skills while photographing an ever-changing tableau of wildlife. Learn how best to capture movement and light as you frame dazzling herds of zebras, majestic lion prides, and wildebeests on their annual migration across the Serengeti. Spend time with the Maasai and document their traditions in the Ngorongoro Highlands.
Trip Highlights
Learn how best to work with movement and light as you frame dazzling herds of zebra, lolling lions, and a colorful spectrum of birds.
Spend time with the Maasai in their village and enjoy a rare chance to shoot portraits and photograph the traditional way of life of these iconic pastoralists.
Head out on safaris, walks, and other activities designed to maximize photographic opportunities.
Go on a photo shoot at a coffee plantation, and fill your lens with scenes of lush fields, bright coffee beans, and local culture.
Day 1 — Arusha, Tanzania
Arrive at Kilimanjaro International Airport this evening and transfer to our hotel.
ACCOMMODATION: Arusha Coffee Lodge
Day 2 — Arusha/Lake Manyara National Park
Drive to Lake Manyara National Park, famous for its elephants, hippos, giraffes, flamingos, and tree-climbing lions. Get your equipment ready for our first safari this afternoon, and train your lens on giraffes or Cape buffalo against the stunning mountains of the Rift Valley.

ACCOMMODATION: Plantation Lodge (B,L,D)

Day 3 — Lake Manyara National Park
Rise early for a morning game drive, heading to the shores of Lake Manyara to photograph the numerous bird species and other wildlife that congregate here. Visit a coffee plantation this afternoon, and document the coffee production process and the culture of the local people.

ACCOMMODATION: Plantation Lodge (B,L,D)

Day 4 — Ngorongoro Crater
Travel into the Ngorongoro Highlands after breakfast for a very special opportunity to visit with a Maasai community off the beaten path. With your camera in hand, pay a visit to a school, witness an initiation ritual, and learn about this fascinating culture from the village chief and his wives. Capture the spirit of traditional song and dance, and enjoy time to work on portraiture and photographing daily life with these proud people. After lunch, descend 2,000 feet to the base of the Ngorongoro Crater, where volcanic slopes shelter almost 25,000 animals. Document the interactions of predator and prey; zoom in on birdlife from marabou storks to rainbow-hued lovebirds; and test your wildlife photography skills on elephants, rhinos, cheetahs, and more.

ACCOMMODATION: Ngorongoro Sopa Lodge (B,L,D)

Day 5 — Ngorongoro Crater
Return to the crater floor at sunrise for breakfast and a morning photo safari. Take the afternoon to relax and, look over your images. Listen to a talk by our National Geographic photographer, and ready your camera to catch the sun set over the crater this evening.

ACCOMMODATION: Ngorongoro Sopa Lodge (B,L,D)

Day 6 — Olduvai Gorge/Serengeti National Park
Drive to the Olduvai Gorge where, on a National Geographic-sponsored expedition in 1960, Louis and Mary Leakey discovered Homo habilis, one of the earliest members of the human genus. Take a private tour of the site and learn about recent finds before continuing west to Serengeti National Park. This afternoon, drive to our lodge in the central Serengeti, looking for lions, cheetahs, and leopards along the way.

ACCOMMODATION: Serengeti Sopa Lodge (B,L,D)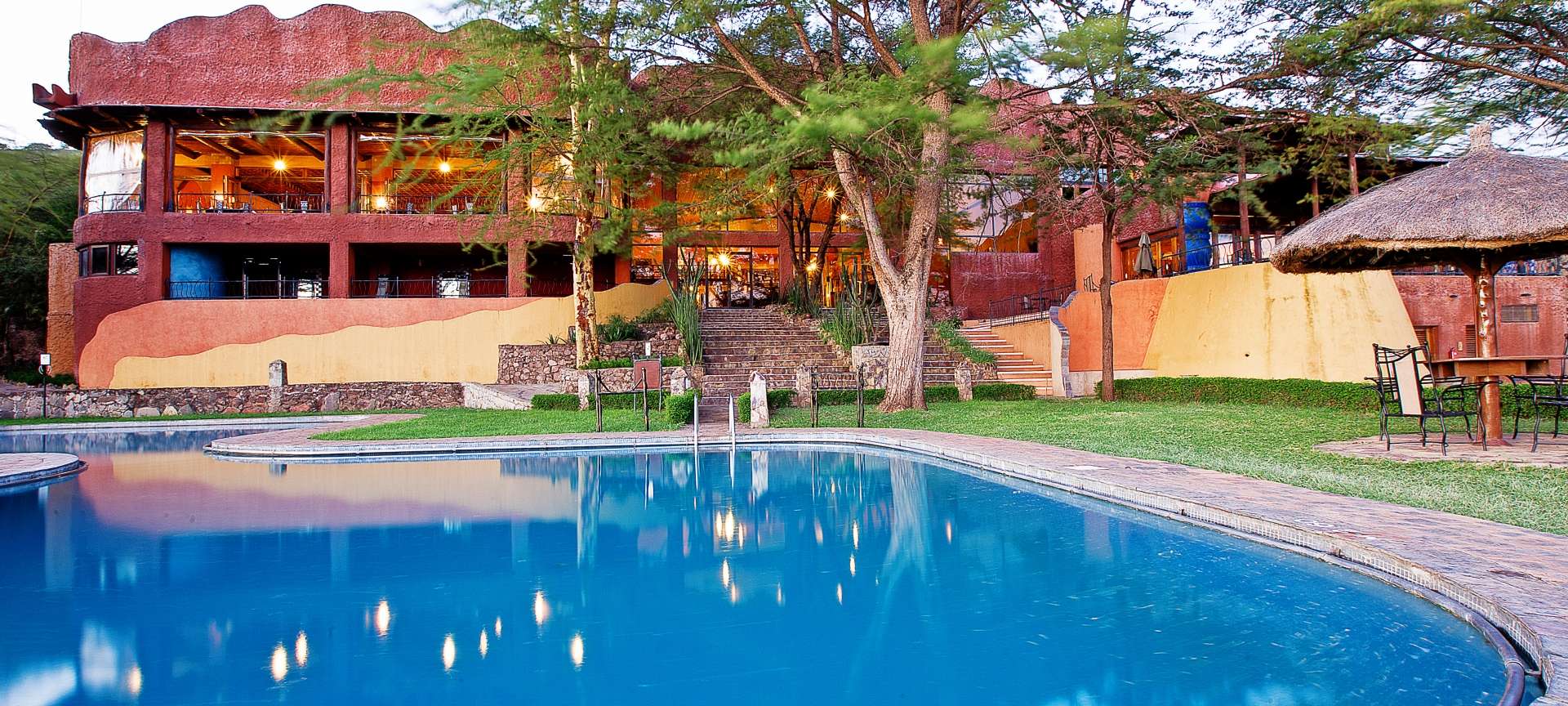 Days 7 & 8 — Serengeti National Park
Rise early for a morning game drive before flying to the northern Serengeti, and with luck, witness the dramatic river crossings of the wildebeest migration. Great herds of wildebeests and zebras eye predators warily as crocodile snouts break the surface of the Mara River. Stay at Sayari Camp, and on morning and afternoon game drives, take in the region's spectacular array of wildlife. On our last evening, gather for a candlelit farewell dinner in the bush.

ACCOMMODATION: Sayari Camp (B,L,D daily)
Day 9 — Serengeti/Arusha/Depart.
After a final early morning safari, fly back to Arusha. Relax at our hotel before connecting with your flight home.

ACCOMMODATION: Rivertrees Country Inn (B, L)
​
LODGES & CAMPS (luxury)
Accommodation
SAFARI VEHICLES
Our luxury package safaris are luxury class safari packages that are handpicked to ensure a good combination of quality and price. Our clients will be staying in luxury comfortable lodges and tented camps in the wildlife, with all necessary amenities.
BEST TREKKING MONTHS JOIN GROUP
GROUP CLIMBING IS AWESOME
We are 24/7 online in social media.Request for any sort of safari via email or facebook messenger and get a quick reply.Feel free to ask for information regarding safari, we are here to help you out.100% Free
Agness Travel © 2020 I Tanzania Specialist